Hollow Earth Radio Blog


Posted By DJ Garrett on 03/28/2012 at 03:22AM
Friends - our fifth annual Magma Festival is coming to a close THIS WEEKEND. ARE YOU READY FOR THE ERUPTION?
Prepare yourself: This Friday kicks off an explosive weekend with the music of WHITE COWARD coming straight to your face. This explosive little band is gonna rip the place apart. Dogs and cats, living together. It will be anarchy.
Here's how Kenneth of Off Tempo describes White Coward:
"This show was packed. It was crazy how many people were there and how posi-mosh everyone was. It's the most smiles I've seen in a mosh pit in a while. Troy (bassist / singer, also in Stickers) is singing whatever it is that he's singing. I can't understand much of it but I think a couple songs are about eating that 13 egg omelet at Beth's Café on Aurora. I haven't eaten that particular endtrée yet but when I can get my hands on whatever recorded material White Coward puts out in the future, I'll look for the songs that are reviewing the experience of that meal.
I remember on the trip back home, the van I was busy with talking about how great White Coward was and how great the show was overall. How much shredding and kind shoving occurred."
Pair that with legendary Roger Nusic. I know very little about this guy, other than that he's a one man band playing violin/guitar over electronic beats singing about burning money (see his album titled: "Burn or Save?" with him in piles of dollar bills). Somewhere on the internet I read that his first show was opening for Nirvana at Satyricon.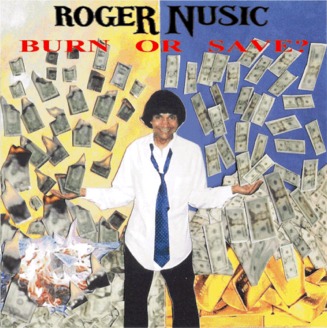 It's sure to be a thriller - I mean, check out this video!???
Here's the first verse off one of my favorite of his songs: Alternative Punky Day
Also on the bill: FAN TAS TIC Seattle pop punk band THE WEBS who have A ONE SONG DEMO here: duh webs
We also recently did an instudio w/ the band which you can download and listen to as a podcast here
Also, completely unpredictable Gio Ricci has a new band Space Cadet 5. He's one of our dj's here at the station but no one has seen him in months. He is an international man of mystery.
This all goes down THIS FRIDAY at Hollow Earth Radio! Get there at like 8:30. We start prompt.
---
Tags: seattle, diy, magma festival, 2012